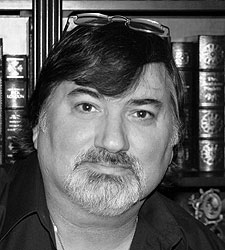 1. Does the TJ stand for Tommy James? Are you a Shondell?
Thomas John—but I go by Tj (note the small j). Yes, in a former life I was a Shondell— there was TJ, Larry, Larry, Craig and Jim. Just like the two Larry's there was TJ and me, a second Tj—hence the small J. Just don't tell the real Shondells.
2. Tell us about Dying to Know.
Dying to Know was a fluke for me. I wrote three thrillers and was hunting for an agent. I was telling one of my daughters about a 20-year recurring nightmare that I was killed during an anti-terrorism operation and returned to catch the killers. She love the idea and kept telling me that the paranormal was making a comeback in books, TV and movies—there were vampire detectives, ghost hunting, all sorts of things. So, while my last thriller, Double Effect, was being considered by a lit-agent, I wrote Dying to Know—the story of a homicide detective killed  and who returns to help his wife and partner solve his murder. The official summary goes as follows:
Dying is overrated. Murder is not.

That's what Detective Oliver Tucker used to think. Not now. He's dead—murdered—and back as an earth-bound spirit to help his wife, Professor Angela Tucker, crack the most important case of his life—his own.

But, this is not a ghost story; it's a murder case.

Tuck knows why he is back among the living but not one of them—Detective Solve Thyself. Perhaps he was murdered because of his last case—a murder involving a retired mob boss, a local millionaire land developer, a New York hit man, and the local university elite. Or could it be that Bear Braddock, his best friend and partner for more than fifteen years, wants Angela? Tuck knows that everything surrounds Kelly's Dig where the discovery of Civil War graves may put an end to a multi-million dollar highway project. If it does, who stands to gain the most? Enough to kill?

Using his unique skills, Tuck weaves through half-truths and generations-old lies chasing a madman. And he's not alone—others, dead and alive—are hunting the same killer. Still nothing can change the truth—it is the living, not the dead, who are most terrifying.
When the story came out well, I decided to send it out to a few agents and test the waters. Kimberley Cameron, a well-known agent, signed me because she saw similar themes from the 1940's Topper and The Thin Man in the story. She was the third agent I reached out to.
All the books I write have three themes—a primary story line, a historical subplot, and a secondary story line that ties the first two together. I've been accused of being too complex at times, but if you want easy reading, stick with the funny papers.
3. How'd you come up with the Tuckers?
I was on my Harley cruising through the Himalayas when a Tibetan monk beckoned me to stop. When I did, he said, "I'm tuckered. Give ride?" And the name Tucker just stuck. It was an omen, right?
No, really, I did what I always do with names, I visualized the character, then starting throwing names against my story board to see what stuck. Oliver Tucker did. I wanted an old fashioned name like Oliver so I could go with a nickname. And Tucker had a nice nickname with it.
4. Is the story based on a real life experience (which, come to think of it, would be a little weird)?
Yes, oddly enough, it is in many ways. As a former government agent and then a twenty year international security consultant, I've lived and worked a lot of fascinating cases and met some amazing people. I've borrowed from my past wherever I could. In this case, the basic theme—the dead Oliver Tucker—is based on my recurring nightmare I began having when I left Athens Greece in 1990 after running anti-terrorism operations there. A subplot in the story is the discovery of Civil War skeletal remains during the excavations for a highway project around town. This discovery has a significant role in the story. True to fact, battlefields and historical markers are as prevalent in Winchester as any city in Virginia. Also true  is that a long-running debate in this area has been the development of land around Winchester for the construction of a highway bypass project that's been heavily mired down by, among other reasons, historical preservation. This real-life battle has been waging on and off for years. And, at times, it's become very heated. Having watched from the sidelines, I can tell you that land developers and historians mix like gasoline and matches. So far, though, no one has buried anyone in the hills outside town. Not that I know of anyway.
The discovery of the Civil War bones in Dying to Know and the underlying plot they bring in my story is also based in fact. Some twenty-seven years ago, I was a young OSI agent assigned in central Ohio when a building excavation on a military base unearthed a human skeleton. Stop the backhoes! At first, the history behind the site concerned us. During the 1st and 2nd World Wars, the ground under construction had been occupied by military barracks for soldiers and airmen. Had there been an unreported or unsolved murder? Was some long-forgotten soldier just now being discovered?
No. Thank God there was not.
Instead, we called in forensic experts from Ohio State University, whom we thought could shed some light on the age of the victim and provide us with some tips on how to handle such a dated and decaying find. Back in the 1980s, few CSI or other on-hand experts could swoop in and solve the murder in an hour while never losing their sunglasses. Yet, oddly enough, the forensic folks sent us down the hall to the archeology department where we met with scientists researching the Mound Builder Indian cultures. That's where the trouble started.
Within an hour of our meeting with the archeologists, we found ourselves at the beginning of a major controversy. At first, the archeologists believed our discovery was that of a pre-historic Indian from Mound Builders history—Ohio is laden with American Indian Mound Builder culture discoveries. And, after their initial speculation, they swooped in with court orders and papers that froze the scene for months while they sorted out the dig site. In the end—many, many months later—it was discovered that the poor soul in the site was a mid-19th Century farmer; probably a family burial left unrecorded. Oops. The lawyers, historians, government officials, and developers were in a mêlée over what to do. It got ugly.
My partner and I quietly exited stage left.
5. If you could be any color you chose, what would it be?
Black. Okay, let me explain—I'm not a sycophant of the president or anything. Black as in my favorite color—the color of murder mysteries, political thrillers, etc. Great stories come from that color and the many shades of mayhem. So, color me mayhem.
6. What other works do you have out there?
I've written seven novels and working my eighth. To date, Dying to Know is my first published novel and the first of its two sequels, Dying for the Past, releases next January. The next sequel, Dying to Tell, will release January 2016.
During the past year, I also finished two different murder mysteries with similar paranormal twists—a key character is dead and plays a vital character role—New Sins for Old Scores, and The Killing of Tyler Quinn.
New Sins for Old Scores—
Murder, like history, often repeats itself. And when it does, it's the worst kind of murder.

Detective Richard Jax was never good at history. After years as a cop, he was about to get the lesson of his life.

As Jax lay dying after being gunned down at an old inn while on a case, he's saved by Captain Patrick "Trick" McCall—the ghost of a World War II OSS agent—who has been waiting since 1944 for a chance to solve his own murder. Soon, Jax is a suspect in a string of murders—murders linked to smuggling refugees out of the Middle East—a plot similar to the World War II OSS operation that brought scientists out of war-torn Europe. With the aid of a beautiful and intelligent historian, Dr. Alex Vouros, Jax and Trick unravel a seventy year-old plot that began with Trick's murder in 1944. Could the World War II mastermind, code named Harriet, be alive and up to old games? Is history repeating itself?

Together, they hunt for the link between their pasts—confronted by some of Washington's elite and one provocative, alluring French Underground agent, Abrielle Chanoux. Somewhere in Trick's memories is a traitor. That traitor killed him. That traitor is killing again.

Who framed Jax and who wants Trick's secret to remain secret? The answer may be, who doesn't?
My agent plans on presenting New Sins for Old Scores to the market this winter.
The Killing Of Tyler Quinn— is still in second draft. It's the story of Quinn, a small Virginia newspaper reporter who returns from Afghanistan a broken—and dead—man. He struggles with understanding what happened to him during the war when he returns only to find his mentor and best friend has been brutally murdered. When he begins to seek the truth behind his friends murder, he realizes there are eerie similarities to his own demise on the back streets of Kabul and begins to recall his life there—and chasing a serial killer. The story merges the "then" and "now" and follows the trail of a serial killer who thought he had escaped justice. Now, in Patriot, Virginia, he has to face Quinn, whose new idea of justice doesn't involve the court.
The Killing of Tyler Quinn is still in a working-mode and I hope to return within the year and finish the edits to get to my agent.
I've also written three thrillers—The  Trinity Trial, The Whisper Covenant, and Double Effect. Of those, I can only image Double Effect is print worthy. I hope to return to it this year and re-write a little and try to get it to market.
7. Automatic, or revolver?
Both—I have two hands. My fav is a 1911 .45 semi-auto. I have two—one for shooting bad guys and one antique from WWII on display in my den. I also have an antique 1863 Army Colt revolver on display and a Civil War Springfield.  I've got a few other pieces and working on a small collection of antique military weapons to parallel my books I write.
8. Rumor has it you were once part of an elite intelligence unit renowned for its practical jokes. Care to comment?
There are parts of my past I dare not relive. Lives could be at stake. Reputations lost. Disturbing memories unleashed. In my profession, your best story is your next one.
9. Tell us your agonizing tale of getting published.
Oh, Dear God! Five years looking for an agent. Eighteen months to sell my first of seven novels, and it turns out to one of the first three publishers my agent pitched—eight months before! Terrible cover art, lousy series titles "The Ghost Gumshoe" really? Are you kidding me? And in the end, it comes down to this—write books, be happy, you have no say once the publisher signs you. Well, unless your Nelson DeMille or Patterson. The only thing more gut-wrenching than my story is the ten years I spent writing before I tried to get published.
10. What's your writing process?
Story board for sketching ideas.
My past and some great memories to fuel the stories and characters.
A wild ass imagination and sense of fun storytelling.
Then the hard part… tap, tap, tap, tap, tap… backspace, delete, tap tap tap… pour a bourbon… repeat.
See more of Tj at his website: http://tjoconnor.com/