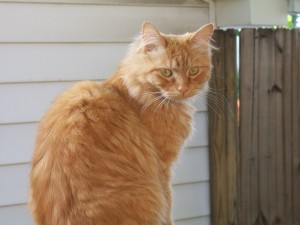 Things have been pretty good. That D. Krauss guy's working out well. Hasn't missed feeding me yet. We've actually got a schedule.
He comes outside about 5:00 am, fools around in the the garden (which has delicious shoots and blooms, yum.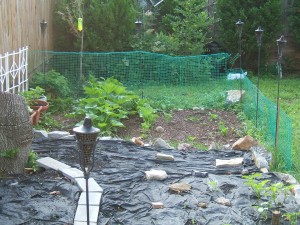 He blames Gertrude, the woodchuck living under the deck, ha ha), then goes off on his bicycle. Which is good, The guy could stand to lose a few pounds.
So he's back about an hour later and gets a cup of coffee and sits on the deck and I jump in his lap and purr and stretch out and let him scratch my chin and I'm just adorable. Which is a Wander Cat's playing card—be cute, or be hungry. I put up with this for about ten minutes and then bite him to let him know it's chow time and he gets me wet food mixed with the nibbles, umm umm, and then goes inside and I usually don't see him again until dinner time. Good arrangement.
So, I figured I'd do him a favor. There's a family of rabbits living in the front yard. D. Krauss hates the rabbits. He's always cursing them out and chasing them around and blaming them for the torn up plants (if he only knew) and the torn up yard (Gertrude, again). Now, I'm not a rabbit fan meself, primarily because they're just stupid. Bad conversationalists. But I can tolerate anybody so I went over to have a talk, you know, lay off the yard, be cool, stay out of the way, like Gertrude does. They just looked at me, chewing cud or whatever rabbits do, which was irritating, so I broke their necks and left them as a warning to the others.
D. Krauss comes diddlybopping around the corner and almost squashes one of the rabbits but jumps back, like a little girl. I was all stretched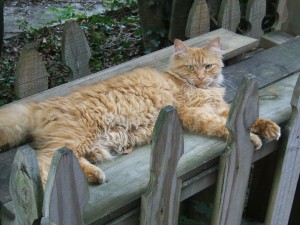 out, feeling smug.  He looked at me, shook his head, said, "Thanks, Gracie. I think," then scooped them up with a dustpan and threw them somewhere.
And gave me kitty treats that night.
Well.
Rabbits, it's so on.