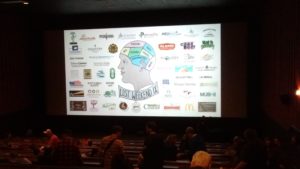 Another Lost Weekend Film Festival, another failure to hang. And this time Andy Gyurisin had actually made it easier to hang: one needed to attend only twenty-four of the twenty-eight movies to win accolades, admiration, and a nifty gold medal good for a ticket exchange next year. I could only do twenty-two. All right, let's hear it: wuss, lightweight, girlyman, yeah, yeah, yeah. Everyone feel better?
It was, as usual, a well planned operation of chaos and mayhem. F'rinstance, when the launch team showed up in the morning to assemble swag bags, the voting ballots and other items had yet to be delivered. Yikes!
But, at the last minute, things arrived and the team swung into action: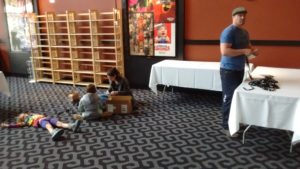 Just in time because the lobby was quickly overrun by those wanting the best seats:
This relentlessly crazy person was first in line, by God: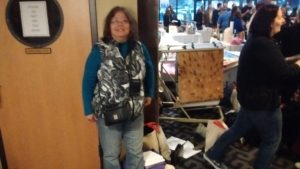 And then the madness began: twenty-eight movies from Thursday through Sunday night, with about oh, say, ten or fifteen minute breaks thrown in here and there. It wasn't a movie festival, it was a movie marathon.
The ones I saw:
Rumor is the next Lost Weekend will have thirty movies. Ah, more chances to fail.