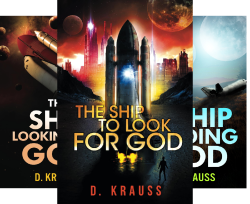 Starting back in November, I ran a series of ads on various platforms for various books, specifically
a. Pre-order a copy of Frank Vaughn Killed by his Mom
b. Advertise the Ship trilogy
c. Giveaway signed copies of the Ship trilogy and
d. Free download of Frank Vaughn.
Here's the breakdown:
1. Facebook:
Primarily, I boosted Facebook posts. For a, I let Facebook select worldwide demographics from 1-30 November. 20,494 people reached, 7898 engagements, 171 clicks, 5 comments, 1 share…practically all of it from various Indian states.
For c, the giveaway, I restricted it to the US because of mailing costs. From 1-15 Dec, 1344 reached, 535 engagements, 2 clicks.
For d, again letting Facebook pick the demographic, from 3-8 Dec, 725 people reached, 327 engagements, 9 links. From, you guessed it, Indian states.
I got a lot of canned questions in French as comments, like "Do you have any products?" and "Can you tell me more?" (thank God for Translate). Which is a bit baffling given that the post answers both. I simply sent an appropriate link.
2. Twitter
I only did a, the pre-order, during the 1-30 Nov timeframe, and got 13,713 impressions with 1430 link clicks for a 10.43% result. This was for the US and UK.
3. Amazon
For a, the pre-order, ran a Product Display ad from 1-30 Nov, 36,592 impressions with 129 clicks. I also ran b above, from 1-24 Dec and got 4771 impressions with 18 clicks.
4. Radio.
I ran 10 radio ads on the Dennis Prager show for the Ship trilogy from 10-22 Dec. Yes, it was expensive.
Results of everything:
4 pre-orders of Frank.
29 downloads of Frank while it was free.
Before the radio ad, 4 downloads of the first Ship book, which is free. After the radio ad ran, 40 downloads of the free book, 3 downloads of Book 2, 4 downloads of Book 3. In Smashwords, I had 10 downloads of the first book.
Obviously, nobody wants to pay for books.
I had no entries for the three-book giveaway. Not one. Zero. Since Goodreads now charges for book giveaways, I decided to run it myself. The only persons who filled out the form on my site were Russians and Chinese offering hot sex in my city, adidas jerseys, or asking me which blog platform I recommend.
So, which was the most effective? I guess the radio ads.